About page
Are you drawn to artworks that give you a sense of tranquility and peacefulness?
I create works of art which are a fusion of painting and printmaking. The paintings consist of layers of elements which are mystifying and unique for the viewer.
The colours I am drawn to are often a limited palette of blues, yellow ochre and aqua greens which evoke a feeling of peace.
Botanical shapes and patterns found in nature excite me which in turn allows me to create my own honest, authentic art.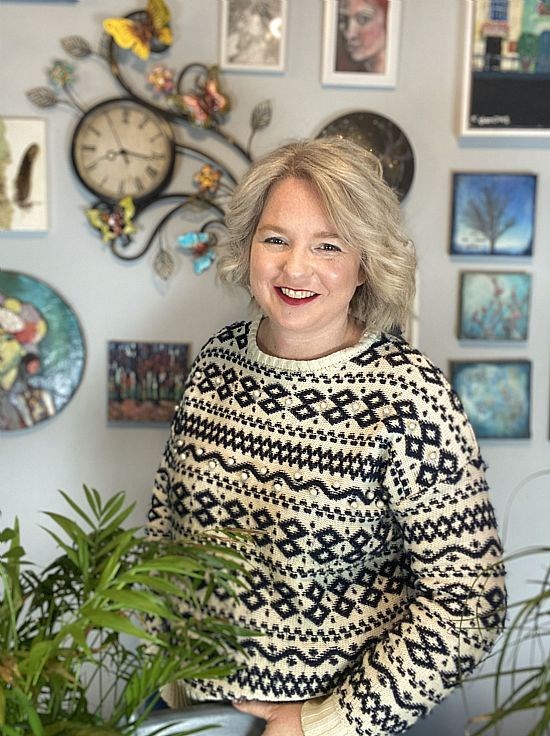 I love to mix my mediums and intrigue the viewer with some of the combinations I use such as hand printed elements combined with the ancient technique of encaustic wax, using gold to embellish elements.
This wonderful testimonial from Agneta sums up what I try to achieve in my paintings...
"I'm puzzled as to why this moves me so, it just makes me calm and happy, thankful even."
I graduated from Duncan of Jordanstone college of art with a BA Hons degree in textile design and printmaking in 1998
After a significant break to raise my daughters I found my passion for art again, social media has opened up a whole new audience to me and I now have owners of my artworks and online courses all over the world!
I sell my work in "Logie Steading Gallery" near Forres.
If you are interested in learning some of the techniques I use, I teach online, to find out about courses click here.
"Susan, you did such a fantastic job creating this course! I love that you are authentic, showing us your successes and what to do if you didn't like the marks you made. The pace was perfect, and the content was quite robust compared to other courses I purchased. You have opened my eyes to many possibilities! Thank you so much for sharing your talents!"
Sarah Lalonde