Well you asked and I have finally delivered! Online class available to book now!
"Could you do an online Gelli Printing Class Susan?"
"Love your botanicals, if you could do an online course I'd love to take it!"
"Wish I could come to your in-person workshop but I'm on the other side of the world!"
"How do you create so many layers in your paintings?"
These are some of the many requests I've had from you over the last couple of years, I have developed my practice using the Gelli Plate to enable me to combine my mixed media painting style with a method of printmaking without the need for a huge printing press.
I have broken down the steps for you that are involved in creating the layered botanical paintings that I produce.
My aim is to show you how to use the gelli plate as a tool in your art kit that will enhance your designs.
Let's have a look at what you will learn in over 6 hours of content in the "Botanical Gelli Printing" Online Course.
Lesson 1 Create background layers - 46mins
In this first lesson I will show you some basic techniques to create some background layers on different types of papers that you can use as a base for your finished designs and for collage elements.
You will learn some new markmaking techniques, how to cut masks and how to build up colours cohesively.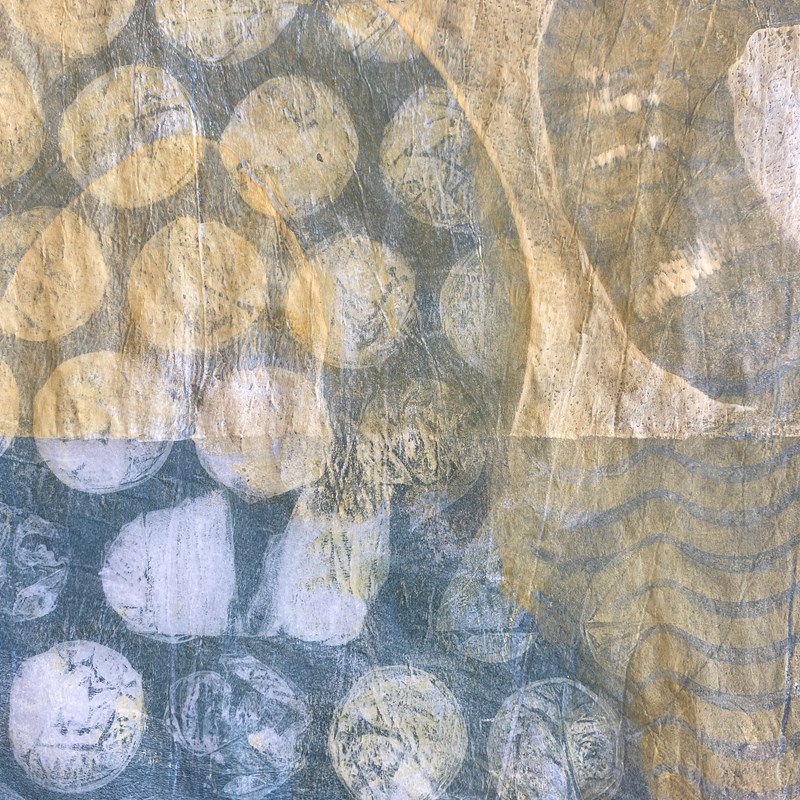 Lesson 4 Botanical overlay with tissue paper - 30 mins
We will learn how to combine fine detailed prints on tissue paper in this lesson, with our layered painted backgrounds on mountboard. I will also show you how to enhance your botanical printed element by using acrylic paint blending techniques and use of stencils to complete the design.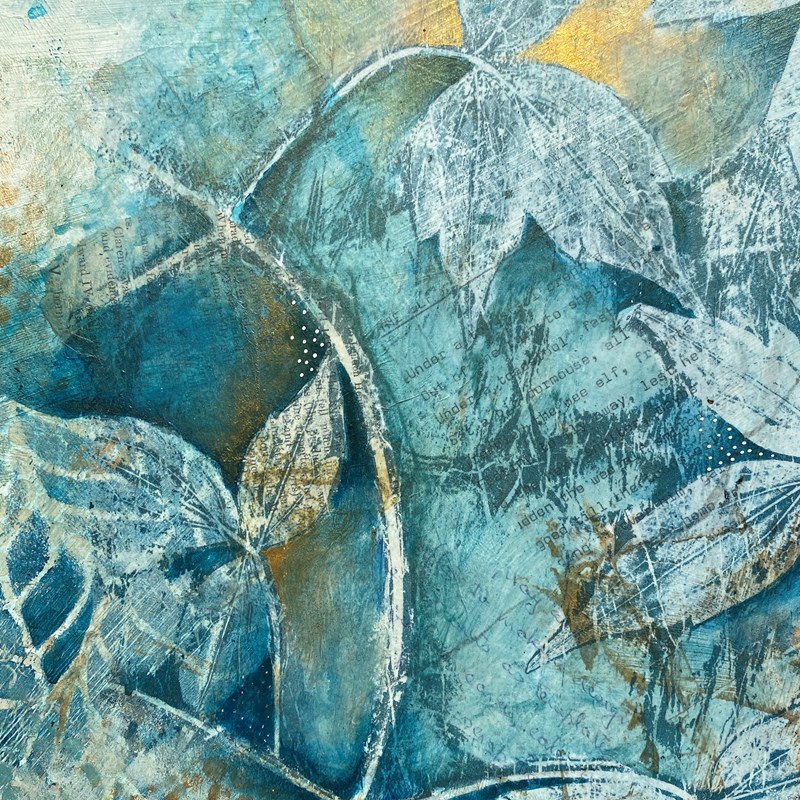 Lesson 6 Creating Collagraph Plates - 33 mins
Learn own to create your own botanical collagraph plates using mountboard. I will take you into my garden to look at the plants that are around us to inspire the sketches that lead to the final designs. Watch me work in my sketchbook and then simplify the drawings to create templates to use for our prints.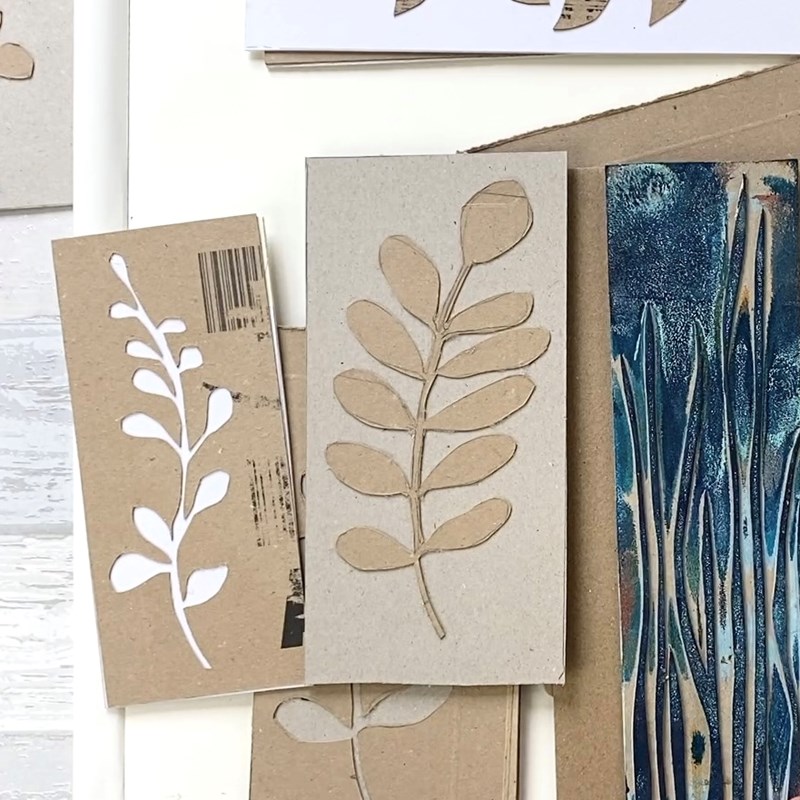 Lesson 9 How to glue your finished prints to a substrate - 55mins
There is a lot going on in this final lesson! You will learn many different ways to use your gelli prints, how to adhere them to wooden panels and canvas. How to embellish those prints with stencils, modelling paste and pen details. How to varnish your finished designs to protect them.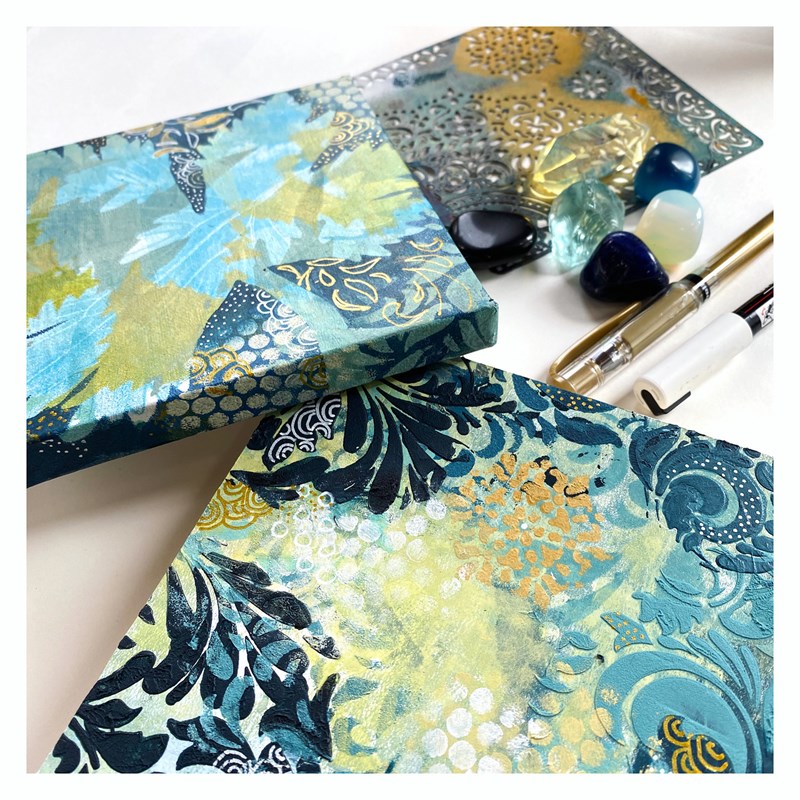 Bonus lesson Bookmark designs - 32 mins
I love to make these bookmarks, to give as gifts or for my market days. They are a great way to use up offcuts from my paintings or gelli printed backgrounds attached to mountboard. I will show you how to use stencils and pen details to layer on top of your backgrounds to create a unique minature artwork.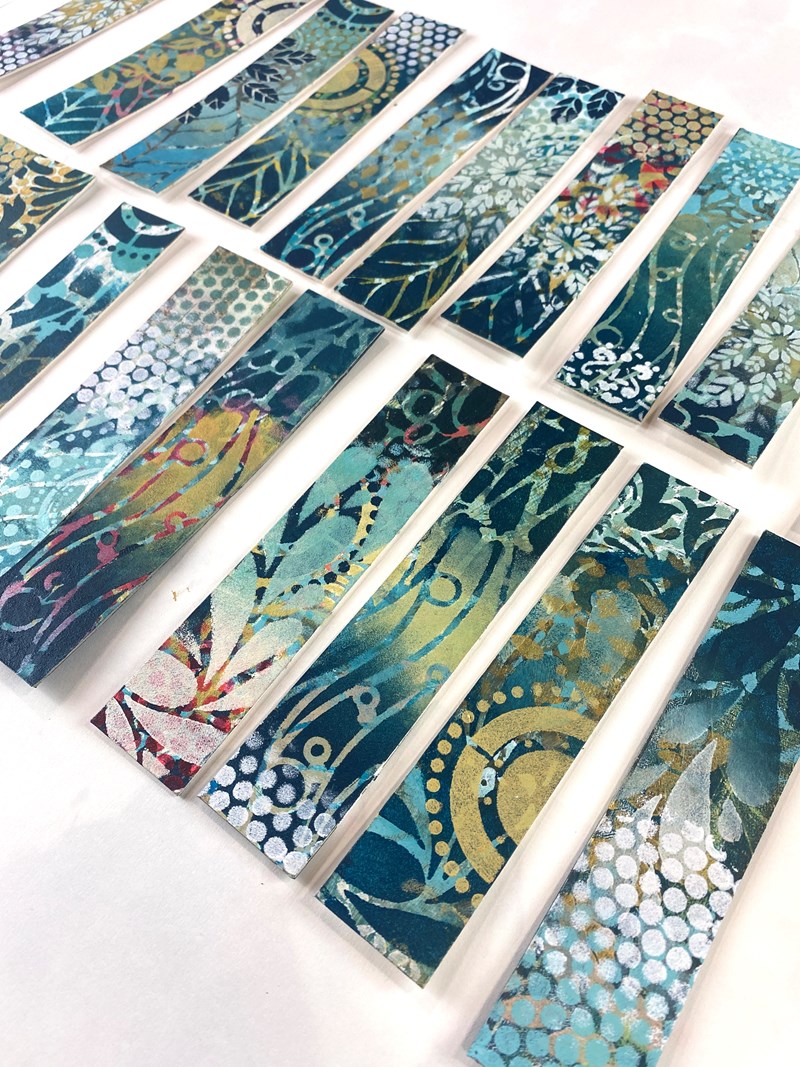 Supply list for botanical gel printing
Do I need to buy everything on the list?
Here are the supplies used in the course. This is a mixed media course so the supplies are quite extensive. I would encourage you to use what you have to hand before rushing out to buy everything on this list. I will put an asterisk * next to essential supplies.
When I buy art supplies I like to shop around to find the best deals, use vouchers or special offers when I can. Some of the suppliers I use are Amazon, Hobbycraft, Jackson's Art Supplies and The Range and ebay.
Many of the items can be substituted to a brand from your own country which works out to be more cost effective.
Gelli Plate*
There are lots of different brands of gel plates but the type I use is Gel Press. They come in various sizes, 5x7" is a great size to get started with but if you go for a bigger size you can always mask off areas with a sheet of paper if you want to print a smaller area.
Brayer or (roller)*
Ideally the brayer should be the same width as the plate if you want a smooth print with no lines. However it is possible to cover the whole plate with a smaller roller. It's best to have a few so you can switch between colours, but one medium sized roller is good to get you started. A 10cm width one is fine to get started.
Acrylic paint*
Any acrylic paints or acrylic paint pens will work on the gel plate. I use whatever I have to hand and tend to buy colours in single tubes of the colours I like rather than big packs unless they are on a really good offer.
The colours I use in the class are as follows:
Pebeo Studio acrylics: White gessoHobbycraft UK : Pale green, Rose Gold, Pebeo Studio Acrylics: Rose fluorescent, Iridescent blue green, Iridescent gold, Iridescent green yellow, Iridescent orange, Paynes grey, Yellow ochre, Burnt sienna. Daler rowney graduate: Phthalo turquoise, Raw umber, Naples yellow, Black, titanium white, copper. Winsor & Newton Galeria acrylic: Phthalo blue, Green gold. Liquitex: Prussian blue
Paper*
The papers I use are wet strength, acid free tissue paper. If you use the tissue paper as collage in a painting you sell, it won't discolour with age. A lot of people use deli paper, this will work like tissue paper but it is not acid free.
Regular photocopy paper, A3 thin sketchbook paper, old book pages, cartridge paper 170gsm. Basically any paper you have lying around is fine! Magazines for image transfer.
Carbon Paper: For transferring designs
Mount Board:* This is for the layered painting background and also used for collographs and bookmarks. 2 x A1 student grade mount board sheets required.
Mark making tools*
Corrugated cardboard, lego board, jute, toilet roll tubes, bubble wrap, plastic comb, bottle lids, lace, silicon mark making tools, cotton buds, cling film, non-slip mat for shelves, silicon baking tools, homemade stencils, stamps, paper masks. No sharp objects on the gelli plate, metal tools can be used on the mount board though.
Pre-bought stencils and sequin waste. I buy my stencils on Amazon or ebay. Search "Botanical Stencil" or "leaf" this should show stencils in this style. One of the brands I like is Sweet Dixie on Amazon. The sponges I use are Snazaroo face paint ones that I cut in half to have more precision.
Coloured pencils, woody stabilo, neocolor pastels
Cutting tools*
Scissors, craft knife, metal ruler, rotary cutter, cutting mat
Paint brushes*
My favourite brushes are acrylic brushes that are quite stiff as they are better for blending paint. Watercolour brushes tend to be softer. A shader/flat brush selection pack of sizes is great to get started, I also like a filbert and a round brush tip in various sizes.
Spreading tools*
I use a pallet knife to apply modelling paste, the metal ones are more flexible and I prefer these to the plastic ones. You could use an old credit card though or glue stick. I also use a catalyst wedge to spread paint but this is an optional extra. (Cake bowl scrapers will work too!)
Water spray bottle*
You can recycle an old spray bottle, take the old label off and wash carefully.
Cleaning tools*
Baby wipes, kitchen towel, disposable gloves (optional)
Acrylic mediums and Glue
Winsor & Newton Galeria Acrylic Mediums. Matt medium * Winsor & Newton Galeria Acrylic Mediums. Gloss mediumWinsor & Newton Galeria Acrylic Mediums. Modelling paste,Winsor & Newton Artist acrylic: Matt UV varnish, Winsor & Newton Professional: Fixative, Liquitex, Professional: Matte gel*
Glue stick: Any brand*
Bookmarks*
Hole punch, bookmark tassels (from Amazon), cellophane sleeves 45mm x165mm + 30mm self seal lip (Etsy Supplier) - optional
How do I sign up for your course?

All my courses are hosted on a platform called Thinkific. You have to make an account with a the password in order to pay and to sign up for the course. Don't forget your password, you will need it every time you want to sign in to the class.

Why is the course only available to purchase in USD

The teaching platform that I host my courses on is called Thinkifik, they only allow for 1 currency option. I decided to opt for USD as my students are worldwide. If you are from the UK for instance, after you pay for the course the money will come out of your bank account in your currency i.e sterling.

When does the course start and finish?

The course is an instant access class. You will be provided with access to all content immediately and can work through the content at your own pace.

How do your online classes work?

The workshops are e-courses, hosted online, and members get an individual, private account to access all their classes.

All e-courses are self-study and self-paced. Paid classes have lifetime access (as per our terms of service, "lifetime" means for as long as our business is up and running). The videos are all prerecorded, so you can watch them whenever you want, and as many times as you wish. You may keep all content. Some videos are downloadable.

What if I am unhappy with the course?

Once you are enrolled in the course I am unable to offer a refund. I encourage you to contact me if you have any questions about the course prior to signing up.

What level is this course suitable for?

It is suitable for any one who wants to learn more about my mixed media art process. The combination of mixed media techniques will appeal to the beginner and more advance artist looking to broaden their range of skills. I encourage you to play, practise, explore and give yourself time to learn.

Do I need high speed internet for the course?

Yes, you will need a good internet connection to view and/or download the video content for this course.

Will there be an online community for this course?

Yes, I encourage you to share all your questions and beautiful work in the private Facebook group You can also post your work on instagram, using the #susanmccreevyartist.

Once I sign up, how do I get my login details?

You will have to create an account on my hosting platform Thinkific. Once you have created your account, you pay for the class and have direct access if the classroom is already open. Take a note of the email address and your password so you don't forget them for your account, you will use this to sign in for your class.

How long will the class and videos be available? Are the videos downloadable?

You get lifetime access to the classroom and videos. "Lifetime" technically means for as long as my business is up and running. You can watch the videos within the classroom as many times as you wish and the some of the videos are downloadable. Make sure that your internet connection allows you to smoothly stream high resolution videos online. Refunds will not be made after registration.

Do you do refunds?

No. All sales are final and no refunds will be issued after you register, so please make sure you understand and agree to our terms of service and our privacy policy before signing up.

Don't hesitate to contact me at susan@susanmccreevy.com if you have more questions!

Terms of Service

Terms of Service

for online art classes

By registering to any of Susan McCreevy Artist's online classes, you agree to the following :

All sales are final. There will be no refunds before, during or after class.

Your registration gives you personal and individual access only. You will not share your classroom login with anyone, out of respect for your teacher, fellow participants and your own integrity.

You will not display publicly or online, or share in any manner to other parties any part of the class, including the videos. All contents of the class are protected by copyright law.

You have high-speed internet access as well as an up-to-date device and web browser to view class content, load pages containing multiple images and videos, with enough bandwidth to be adapted to viewing high resolution video streaming without any annoying interruptions or breaks in internet connections.

I am not, under any circumstances, responsible for any incident, injury, loss or damage that may occur to you as you take the class. I advise you to get acquainted with any safety measures that the use of your supplies, tools and materials may require.

REFUND POLICY

All sales are final. There will be no refunds before, during or after class. Therefore, make sure you agree to these terms and our privacy policy before signing up and read the frequently asked questions page for more information about the way my online classes work. I have done my best to provide all the necessary information for you to make an informed decision. Contact us for any other pre-sale question at susan@susanmccreevy.com No refunds will be made.

In case you are having any difficulty accessing the class, contact me by email (susan@susanmccreevy.com). Please understand that an issue on my side would affect all users. If this is the case, I will do my best to resolve it as soon as possible and will keep you informed. If everything is running smoothly on my side, I may be able to offer helpful suggestions but I cannot take responsibility for your individual technical issues (which may be due to your internet connection, electronic device, web browser, cookie settings, interference of other applications, add-ons and plugins you may have installed etc.). I recommend watching the contents of the class on a desktop or laptop computer. No refunds will be made.

I am not responsible for any malfunction or interruptions of service on the part of the website hosting platform, login service provider, video hosting platform, social media or your internet provider. No refunds will be made.

If any unexpected life event prevents you from taking the class as you had planned, remember that you have lifetime access and that the class will still be available whenever you are ready. No refunds will be made.

ONLINE CLASS DELIVERY POLICY

The online class is a paid service delivered online in a password-protected classroom website

The class contents are composed of text, images, videos, audios and links, all of which are accessible directly from within the classroom site.

An email with the login instructions will be sent to you when the class starts.

This email will be sent to the email address you used upon registration.

Our paid classes have "lifetime access". In this instance, the term "lifetime" means for as long as we are operating our business.

You will also be invited to join an optional, private Facebook group where you can interact with your teacher and fellow classmates. Should you choose to join the group, you agree to comply with the guidelines posted in the group. As administrator, Susan McCreevy Artist reserves the right to refuse or cancel access to the Facebook group to any participant at any time, and to temporarily archive or permanently delete the group at any time.

Access to the Facebook group is a free, optional bonus and is not, under any circumstances, part of the paid service described as "the online class".

I am not responsible for any malfunction or interruptions of service on the part of the website hosting platform, login service provider, video hosting platform, social media or your internet provider.

I reserve the right to modify or update the contents of the class at anytime.

I reserve the right to change the classroom access login at anytime, in order to maintain the security of the website. In such cases you will be sent new login instructions by email within 48 hours.

YOUR PRIVACY

You give permission for your email address to be added to my email list. I may send you information about my other classes and art-related content that I think may be of interest to you. We advise you not to click the Unsubscribe link as this would erase you from our database and would prevent us from sending you important information regarding your access to the class (such as login changes).

You give permission to Susan McCreevy Artist to use any images you submit for class, whether on the classroom site, by email or in the Facebook group, to be used in any future class-related marketing or promotional strategies, online or offline. You will always be credited and will retain the rights to your work. If you want your images removed, please contact me at susan@susanmccreevy.com

You give permission to Susan McCreevy Artist to use any testimonials you submit on the class's feedback form, in the class comments, community forum or Facebook comments, to be used in any future class-related marketing or promotional strategies, online or offline. If you wish your testimonial to be anonymous or removed, please contact us at susan@susanmccreevy.com

The online class may include contents provided by other contributors. These contents remain the sole property of their respective authors. Like all contents in our classes and our website, they are protected by copyright law.

CHANGES TO TERMS OF SERVICE

I may, at my sole discretion, modify or update these terms of service as well as my Privacy Policyand FAQ's time to time, and so I invite you to periodically review these pages. When I make changes to these terms, I will update the 'last modified' date at the bottom of this page. Your continued use of services following the posting of any changes to these terms means that you accept such changes.

These Terms of Service were last updated on August 25th 2022

Privacy Policy

Privacy Policy

This privacy policy describes how I collect and use the personal information you provide on my website. By accessing and using my website, you indicate your agreement to this privacy policy.

Please read these terms carefully.

Information I collect

I collect information from you when you subscribe to my email list to receive news and be informed of my classes, when you register for a course, respond to a survey or fill out a form (contact form, payment plan request etc.).

When subscribing or registering, you may be asked, as appropriate, your first and last name, your email address, your mailing address, your preferred language and your credit card information.

Like most website operators, I collect non-personally-identifying information of the sort that web browsers and servers typically make available, such as the browser type, language preference and the referring site. I use this type of information to administer the site and provide the highest possible level of service to you.

The use of your Information

I use the information you provide

- to communicate with you about Susan McCreevy's Art and online classes,

- to improve my products, services and website,

- to process transactions.

Information sharing

I do share your information with trusted third parties who assist me in operating my website, conducting my business and servicing students and visitors, such as my payment processors (Paypal and Stripe), my email service processor, etc. These trusted third parties agree to keep this information confidential. I will never share your personal information with unrelated third parties.

I don't store your payment card details. That information is provided directly to our third-party payment processors whose use of your personal information is governed by their own privacy policy. These payment processors adhere to the standards set by PCI-DSS as managed by the PCI Security Standards Council, which is a joint effort of brands like Visa, Mastercard, American Express and Discover. PCI-DSS requirements help ensure the secure handling of payment information.

I will never sell or give away the information I collect to anyone other than to satisfy any applicable law, regulation, legal process or governmental request, as required by law.

Cookies

Cookies are small pieces of text sent to your browser when you visit a site. They serve a variety of functions, like enabling us to remember certain information you provide to me as you navigate between pages on the website. If you do not wish to have cookies placed on your computers, you should set your browser to refuse cookies. Certain features of my website, especially classes access, may not function properly without the aid of cookies.

Children

I do not knowingly collect any information from anyone under 16 years of age. No personally-identifiable information should be given by visitors under 16 years of age without the prior written consent of their parent or guardian.

Security

To protect your personal information, I take reasonable precautions and follow industry best practices to make sure it is safely kept.

But no Internet data exchange can be guaranteed to be fully secure. While I make every effort to protect your personal information, you acknowledge that the personal information you voluntarily share with me could be accessed by a third-party. You agree that I am not responsible for any intercepted information shared through my site without my knowledge or permission. Additionally, you release me from any and all claims arising out of or related to the use of such intercepted information in any unauthorized manner.

Website links

My website contains links to third-party websites and plug-ins (including Pinterest, Youtube, Facebook and Instagram). When data is collected in this way, its processing is governed by the privacy policy of the respective social media platforms.

Your images

You give permission to Susan McCreevy Artist to use any images you submit as a participant in my online classes, whether on the classroom site, by email or in the Facebook group, to be used in any future class-related marketing or promotional strategies, online or offline. You will always be credited and will retain the rights to your work. If you want your images removed, please contact me at susan@susanmccreevy.com

Unsubscribe

You can unsubscribe at any time by clicking the "unsubscribe" button at the bottom of my emails or by contacting me at susan@susanmccreevy.com

Data retention

I will retain your information for as long as you wish to be registered to my mailing list and as long as your customer account is active and you have not otherwise requested us to delete your information.

If you've registered for one of my classes, I'll keep your information for at least 10 years in accordance with UK laws.

Privacy Policy changes

I reserve the right, at my sole discretion, to update my privacy policy, in particular to be in conformity with the law. I encourage you to periodically review my terms to stay informed of my updates.

This privacy policy was last updated on August 25th, 2022